Before 1900 ---- After 1925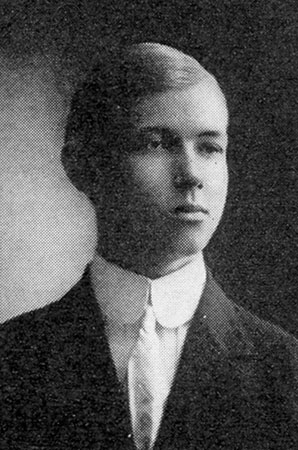 Dr. Arthur N. Young graduated in 1910. He earned his Ph.D. at Princeton and had an outstanding career as an economist in the United States and a financial advisor to several countries including China, Mexico, and Saudi Arabia. He was financial advisor to the Republic of China through 1946 where he met and socialized with Chiang Kai Shek.
---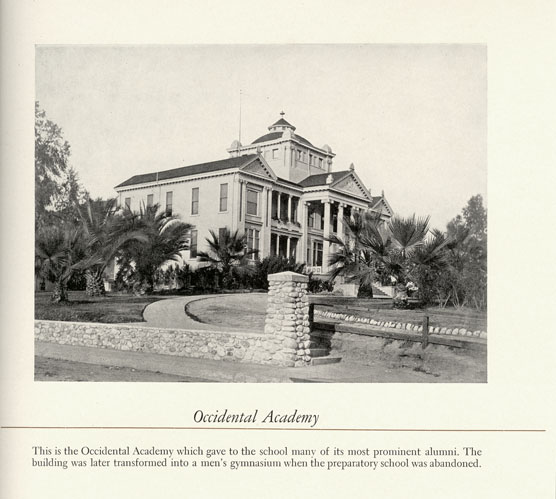 Occidental Academy, a college preparatory school, was located at the Highland Park Campus. All the Young boys attended:

"When it closed in 1913, John was literally the last to graduate from the Academy because his name began with a 'Y'."
-Nellie May Young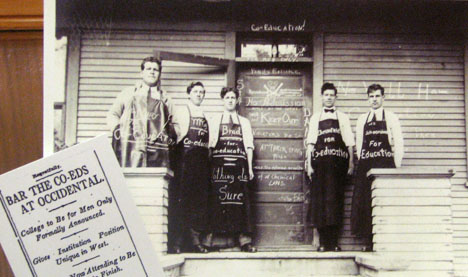 In 1913, the Board of Trustees announced plans to convert Occidental to a men's school. Students, Faculty, and Alumni were stunned. As current students protested, covering themselves and the Chemistry Building with slogans (right), Arthur Young and other alumni sent indignant telegrams. The plan was eventually dropped, allowing Arthur's sister, Sarah, to graduate Occidental College in 1919.
---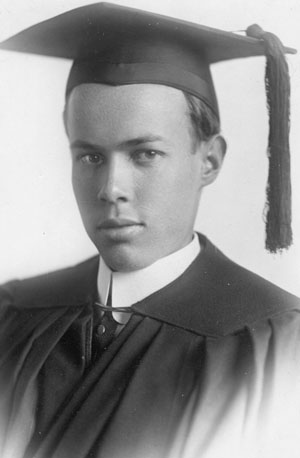 Dr. Paul T. Young graduated in 1914. He went on to be a teacher, scholar, and author in the field of psychology, earned his doctorate at Cornell and served on the faculty of the University of Illinois for nearly 40 years. He is the author of numerous publications on human behavior.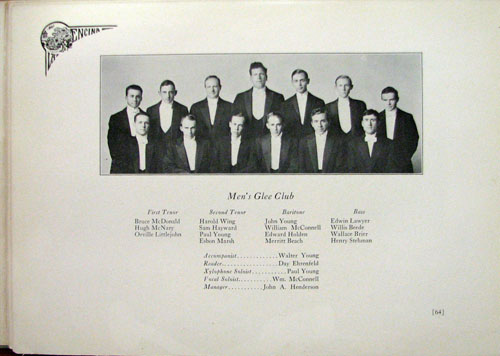 In 1914, Paul, John, and Walter participated in Glee Club together, making the Young Family a proportionately large part of the ensemble.
"The [Glee] Club has won applause from every kind of audience. Besides the singing, which has been exceptionally good, the Club has been livened by the Young Brothers, with their strange and wonderful instruments...Every member of the Club has contributed to the success of the year's work, for, without co-operation and harmony, the season would have been a failure."
- La Encina, 1914. pg. 64-65
---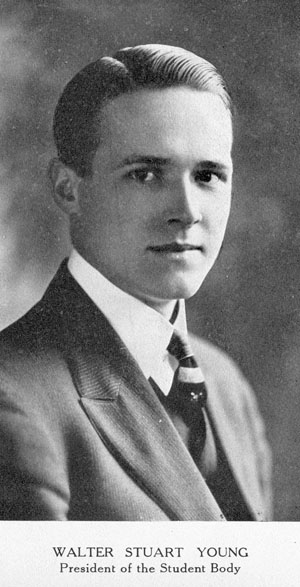 Walter S. Young graduated in 1915. He earned his M.A. in economics at Princeton, and served briefly as a business school principal in Peking before embarking on a career with the prestigious Bullock's retail merchandiser. He was active in the Pasadena community, working as the President of Pasadena's Board of Education. In 1959, he received the Arthur Noble Award, a recognition of his contributions to the community.
.
---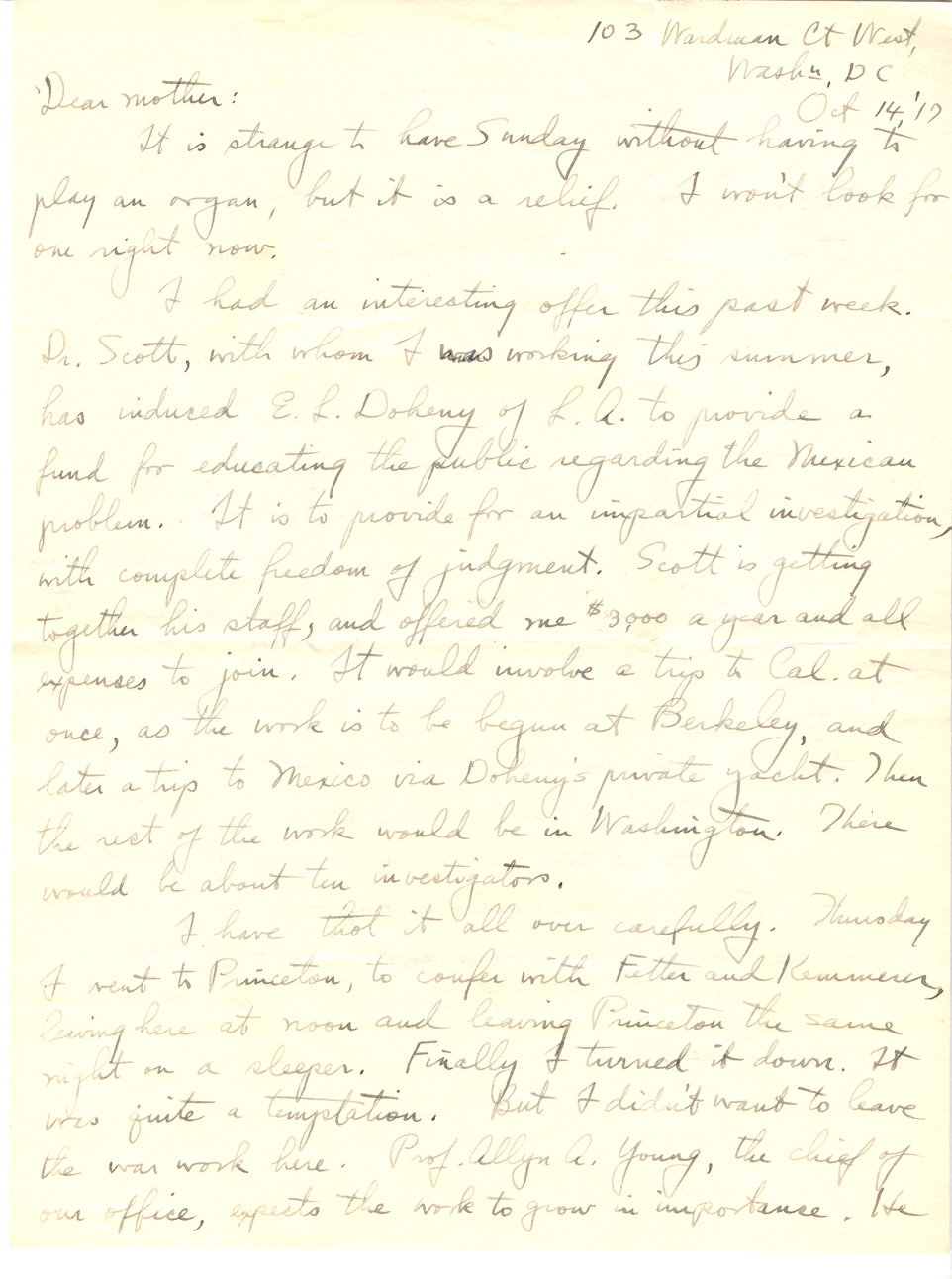 103 Wardman Ct West,
Wash'n, DC
Oct 14, '17
Dear Mother:
It is strange to have Sunday without having to play an organ, but it is a relief. I won't look for one right now.
I had an interesting offer this past week. Dr. Scott, with whom I was working this summer, has induced E.L. Doheny of L.A. to provide a fund for educating the public regarding the Mexican problem. It is to provide for an impartial investigation, with complete freedom of judgment. Scott is getting together his staff, and offered me $3,000 a year and all expenses to join. It would involve a trip to Cal. at once, as the work is to be begun at Berkeley, and later a trip to Mexico via Doheny's private yacht. Then the rest of the work would be in Washington. There would be about ten investigators.
I have thot [sic] it all over carefully. Thursday I went to Princeton, to confer with Fetter and Kemmerer, leaving here at noon and leaving Princeton the same night on a sleeper. Finally I turned it down. It was quite a temptation. But I didn't want to leave the war work here. Prof. Allyn A. Young, the chief of our office, expects the work to grow in importance. He
-1-
spoke highly of my work. He said it would largely be up to me to determine a policy as to our exports of coal, oil, and iron + steel to the So. American countries. I am now studying the statistics of the situation. You see that is pretty important work – to find out how much of these things we can spare and what they should be allowed to get. Prof. Young also said that when he had a chance he would try to get more salary for me.
I am glad the matter is settled.
John surely did wisely to come here rather than to go to school. He will be developed more to have some responsibility. He has had his usual persistence in looking for work and apparently gets to see the big man in the office when he applies. He has of course told of his possibilities.
We think that he seems in pretty good health. Freedom from auto-driving will be good for him. He has a good room and boarding place.
We were interested in Walt's letters. He is having good experience.
Lovingly,
Arthur
---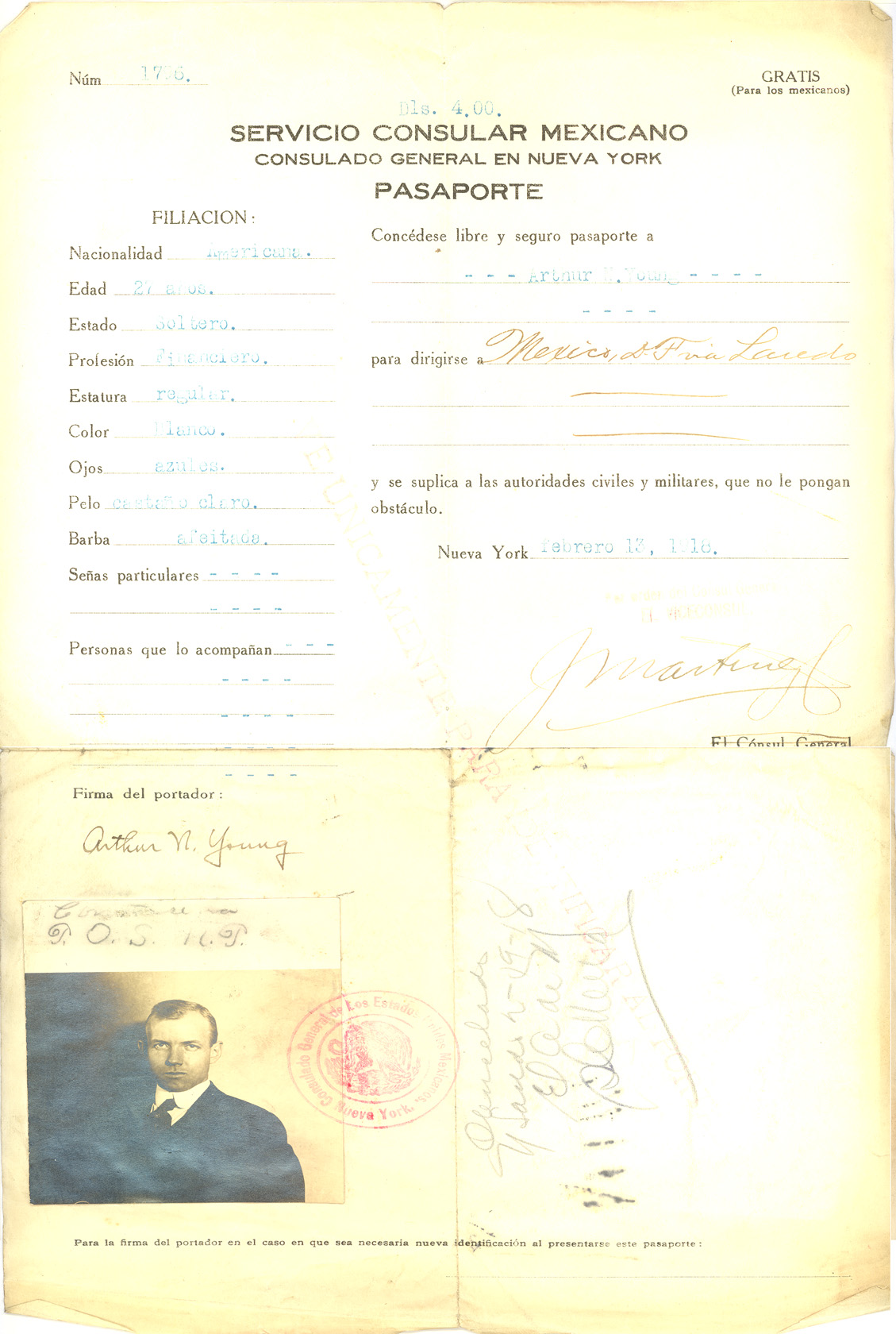 Arthur Young traveled to Mexico City in 1918 after a receiving an invitation to join a Research Foundation studying Mexico. He later received a second invitation presented by the Mexican Government, prolonging his stay.
"Our train on the way down followed a train that has been shot up, we could see the bullet marks on our train. We had an explorador--an armed train with armed cars and a guard of soldiers going ahead--and a boxcar full of soldiers sitting on the car at the rear end of our train when we were going down to Mexico City."
-Arthur N. Young, 1965
---
Ms. Sarah A. Young graduated in 1919 and earned an M.A. in History from Stanford. She served for many years as her father's secretary at Occidental. In 1934, she traveled to China to visit Arthur, returning to serve as Occidental College's Alumni Secretary. During WWII, she was secretary at the California War Chest in Pasadena.
Sarah kept a scrapbook (below) during her years as a student at Occidental College.