scroll through the exhibit by date:

After the 1800s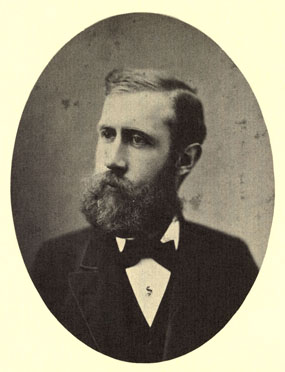 1859

William S. Young was born on July 11, 1859 in Parkesburg, Pennsylvania, the youngest child in a family of seven. Until his death in 1937, Dr. Young was the chief leader in the founding and progress of Occidental College, several churches and the pioneer retirement homes, Hollenbeck Home and Monte Vista Grove Home.
---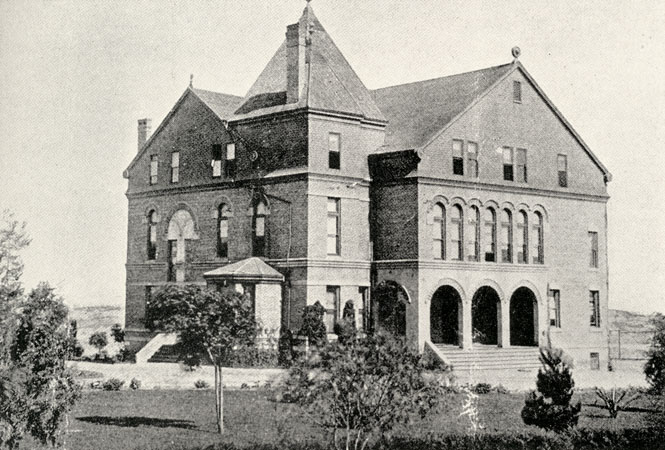 "We know, Mr. Editor, we are not very big; we know we are not very old;
we know we are not very strong; but we also know that we are,
and we do not like to be treated as dead...
Our faith and outlook is large, even if we are not known in San Francisco."

-Reverend William S. Young, who frequently contributed to The Occident,
a weekly newspaper of the Western Presbytery under the penname "Circumspectus."
On September 20, 1887, the cornerstone of the original Occidental College campus (above) was laid in Boyle Heights.
---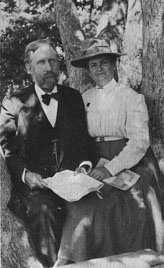 "Soon they would be calling each other Adele and Will,
but Adele seemed to him to be formal,
so he gave her his pet name of Betsey."
-Nellie May Young
William Young met Miss Nichols in 1888 at a Saturday night lecture series in downtown Los Angeles. William and Adele's wedding ceremony took place in 1889 at Adele's sister's home in Riverside, CA.
---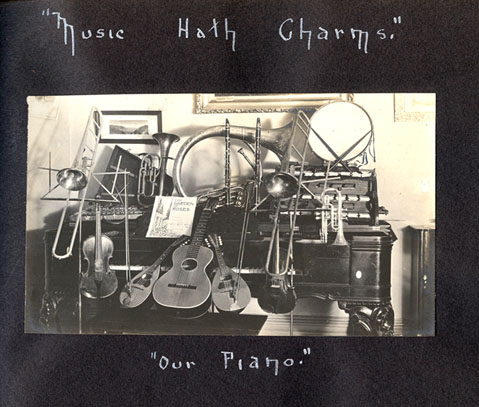 "The parents readily bought almost any instrument which the boys wanted: a violin, mandolins, guitar, banjo, cornet, trombone, E-flat horn, tuba, orchestra bells, and snare drum...Frequently the children organized concerts which delighted the 'old folks' of Hollenbeck Home. That was a useful stimulus to practice and to develop a repertoire."
-Nellie May Young
This picture was taken from a family photo album, compiled in 1910.
---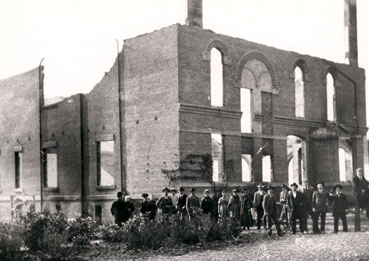 1896
"As if the difficulties of raising funds for the institution were not enough,
the College's only building was totally destroyed in a disastrous fire
in January, 1896, and little was left but ashes."
- Richard Gilman, Occidental College President, The College and the City address, 1967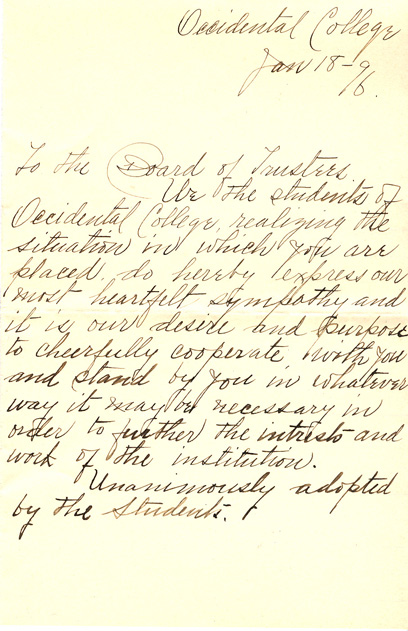 "Occidental College
Jan 18-96
To the Board of Trustees
We the students of Occidental College, realizing the situation in which you are placed, do hereby express our most heartfelt sympathy and it is our desire and purpose to cheerfully cooperate with you and stand by you in whatever way it may be necessary in order to further the interest and work of the institution.
Unanimously adopted by the Students"
-From a letter composed by Occidental
students in 1896.