---
Jeffers' Fascinating Friends and Family
The Controversial Life of the Poet
Organizations Dedicated to the Man and his Poetry
---
Special thanks to Mr. Lindsay Jeffers and Jeffers Literary Properties for permission to display Jeffers' poetry and/or excerpts. For inquiries concerning publication rights contact Ariane de Pree, Contract & Rights Manager, Stanford University Press, 1450 Page Mill Road, Palo Alto, CA 94304-1124.
Website designed by
Aleks Sedzielarz (Oxy Class of '06)
Summer 2004 Library Intern
Mellon Librarian Recruitment Program.
Jeffers Organizations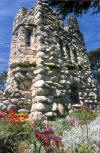 Robinson Jeffers Tor House Foundation - An organization dedicated to preserving the cultural legacy of Jeffers and his poetry. The Tor House Foundation annually hosts the popular Robinson Jeffers festival, a yearly pilgrimage for Jeffers fans and experts. Some pictures from Special Collections librarian Michael Sutherland's festival trip in 1994.
http://www.torhouse.org/

Jeffers Studies- This extremely active group of Jeffers scholars publishes a journal of academic work on Jeffers twice a year http://www.jeffers.org/

American Poetry Websites with Jeffers Pages

The Academy of American Poets- A biography of the poet with a few poems
http://www.poets.org/rjeff

Modern American Poetry Page- A good resource for scholarly works by and about Jeffers
http://www.english.uiuc.edu/maps/poets/g_l/jeffers/jeffers.htm

---
Page last edited by on 03/06/2013.
Occidental College Library Special Collections & College Archives
© 2004 Occidental College