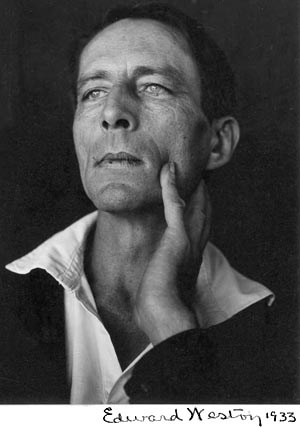 A 1933 Edward Weston Photo of Jeffers from the Oxy Jeffers Collection
Occidental College has a fine collection of Jeffers letters, manuscripts, books and pictures.
This website is a virtual gallery of Jeffers work and other rare items from the collection.
---
Jeffers' Fascinating Friends and Family
The Controversial Life of the Poet
Organizations Dedicated to the Man and his Poetry
The Life of the Poet & the Controversy that Surrounded Him

There are a few online biographies of Robinson Jeffers, including a good one at The Academy of American Poets. But the best way to explore the life of Robinson Jeffers is through the work of scholars and admirers who have dedicated their lives to researching the poet. Dozens of biographies and critical examinations of the life and work of Jeffers have been published. Notable volumes are:
Robinson Jeffers: The Man and His Work by Lawrence Clark Powell
Robinson Jeffers: The Man and the Artist by George Sterling
The Stone Mason of Tor House by Melba Berry Bennett

These books were all written during Jeffers lifetime and are still valuable resources for understanding Jeffers' life and poetry. The first was written as a doctoral dissertation by Occidental College alumnus L.C. Powell. George Sterling's book launched Jeffers career as a popular poet. This book represented the passing of the unofficial position of California's leading poet from Sterling to the young Jeffers. Melba Berry Bennett, author of the third book, was Jeffers' secretary and friend. She produced two volumes about the poet. In order to better understand the poet and his art, one must also study him from a distance. The aforementioned books are valuable for their intimate descriptions of Jeffers, but the best resources for a critical understanding of Jeffers poetry and lifestyle were published later, with a more developed understanding of the social, political and literary context of his work. Works by James Karmen, Robert Brophy, Tim Hunt and Alex Vardamis are the foundation of the field of Jeffers studies. For a thoroughly enjoyable read and an exciting introduction to Robinson Jeffers, however biased in favor of the poet, the works of William Everson (Brother Antoninous) offer creative, original and engaging insight on Jeffers' life and poetry.

Background: Drawing by friend of Jeffers and former Occidental President Remsen Bird
Images from his life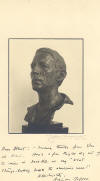 Bust of the Poet With
a Goofy Inscription


Jeffers with his granddaughter


Jeffers the Stone Mason