Prof. Maryanne Horowitz

Hist 224 Museums: Origins, Transformations, and
Contemporary Issues Spring 2006
Hist. 224 has been awarded a Mellon Grant by Community Based Learning Office. Submit receipts from extra credit museum trips to CBL office for reimbursement.
---
Hist. 224 Museums: Origins, Transformations, and Contemporary Issues
Prof. Maryanne Horowitz Class is in Fowler 209 from 2:30-5:25 Mondays
Office: Swan 316. Hours: Wed. 2:25-4:25, Fri 12:30-1:25
---
Books

Books to purchase:
Eilean Hooper-Greenhill, Museums and the Shaping of Knowledge (also on reserve)
Carol Duncan, Civilizing Rituals: Inside Public Art Museums (requested for reserve)
Grabrielle van Zuylen, Paradise on Earth: The Gardens of Western Europe
John Mack, The Museum of the Mind (also on reserve)
Gaynor Kavanagh, Making Histories in Museums (arriving in Feb.; on reserve now)
Supplement the purchased books with reserve books. Ones 24 hrs are generally examples of endnoted books that might be chosen for a book review (to be taken off reserve if chosen). 2-hr and overnight checkouts are generally books for which students might analyze a chapter for an individual oral student report or get a start on a paper topic.
Be prepared to discuss readings the Monday they are due; bring books assigned.
Grades:
20 % Attendance, Participation including some oral reports. Up to 7 Extracredits: 1 typed page minimum. An analysis of a museum visited this semester (including spring break). These visits would be separate from class excursions during class (Norton Simon, Getty Villa, Oxy's Special Collections). For possible reimbursement by CBL office, receipts will be necessary (admissions, special exhibition fee, bus fare, car mileage, parking, etc.); ask Nancy Grubb or Joyce Fairbee in South Swan (323-259-2583) to call ahead to request reduced group student admission.
If you miss a class (1= a week of classes), please pass in your reading notes for that day by the next Monday.
20% Paper 1
20% Paper 2 (instead of assignment below, student might write a 10-page plus endnotes research paper which began with reading for paper 1) Due April 17 when take home questions passed out.
20% In-Class 2 hour exam. March 20
20% Take home exam. Due April 28
Readings to discuss that Monday.
Class meets Monday, date given for the weeks. May 4 Thurs replaces President's Day.
1)Jan. 23, 2006
Introduction. Visit Norton Simon Museum, meet Oxy grad Lisa Griffin, Collections Management Coordinator. She invites email questions to her: lgriff3@aol.com
Duncan, ch. 4 (pp. 72-101)on Donor Memorial (Getty, Huntington, Simon, Morgan, Frick, etc.)
2) Jan. 30
Some student reports begin on contemporary issues and others on Renaissance & Early Modern new approaches to images: pick a specific chapter in Museum Politics or in History and Its Images and email horowitz@oxy.edu of your intention to speak about the chapter. If a 2nd person picks same chapter, I'll let 2nd person know it was already taken. First, Museum Politics, ch. 11, Newseum (next to Pentagon and Arlington Cemetary) Lindsay Washington
Origins of museum in princely palaces
Hooper-Greenhill, chs. 1-3 (pp. 1-77) (Read her notes at end of book as you read.)
Lecture: The Princely Collection: the Medici in Florence and the Duke of Urbino.
Liminal experiences of museum-going
Duncan, Intro, ch. 1 (pp. 1-20) (Read her notes at end of book as you read.)
3) Feb. 6 Pass in proposal for paper 1. This date gives a chance for some feedback and change before final proposal due Feb. 13. See assignment on due date March 3. Appropriate books show up on Occidental College catalogue (use link-plus as well) by following keywords: museum history, museum and historiography, museum and philosophy, museum and social aspects, anthropological museums, cultural property. Also use bibliographies in class books and on electronic reserves.
Origins in Ancient and Medieval Times
Syllabus had repeated the Duncan ch.4. Instead go back over Hooper-Greenhill, pp. 1-77 and take some notes while considering the Jan. 30 lecture. ch. 1. Consider how changing approaches to organizing knowledge influenced the stages of development of museums and libraries. chs. 2 and 3 Discuss what was new about the collecting in the Medici Palace that warrants her calling it the "first museum of Europe." How does Horowitz differ from Hooper-Greenhill in the interpretation of Piero de' Medici's study? What aspects of Piero's study influenced the studies that the Duke of Urbino Federico da Montefeltro created 1474-82? In what ways are Federico's studies in Urbino and Gubbio distinctly different from Piero's? (Piero's study was extant 1450s/60s to 1659.)
Van Zuylen pp. 1-46, 130-139
Lecture: From Manuscript collections to Libraries of Books: Invention of the Printing Press. Bibliography
Break at 4:05
4:15-5:25 Reconvene at Special Collections of our Library to meet Special Collections Librarian Dale Stieber and to examine Oxy's collection of Sixteenth Century Books.
http://departments.oxy.edu/library/geninfo/collections/special/ Special Collections website
Sixteenth Century Books at the Occidental College Library- <http://www.oxy.edu/~horowitz/home/images/16thbooks.html>graphics display and on-line catalogue
4) Feb. 13 . Medieval and Traditional Religious Societies Bring Mack and Van Zuylen with your notes for discussing those readings.
Due date of typed proposal for paper due March 3.
Mack, pp. 7-10, picture on p. 10 with explanation on bottom p. 17-p. 19, ch. 4 (pp. 52-79), ch. 7 (pp. 118-149)
Lecture: Gardens: Padua Botanical Garden, Pitti Palace Garden
5) Feb. 20 (holiday Monday)
Read on curiousity cabinets
Hooper-Greenhill, ch. 4 and 5 (pp. 78-132)
Van Zuylen, pp. 45-62, 140-143.
6) Feb. 27 Bring Hooper-Greenhill, Van Zuylen, and Mack and your notes for discussing those readings.
Cabinet of the World
Hooper-Greenhill, ch. 5 pp. (105-132), ch. 6 ( pp. 133-166)
Mack, chs. 2-3 (pp. 25-51) Seniors reporting on these difficult chapters.
Discussion of 2 weeks readings.
Presentations: Present main points of your paper in progress.
Friday March 3, 12:30 p.m. office hour, first paper 3-5 pp. plus endnotes and bibliography. (2 copies) Possibilities: Book review of scholarly book on museums ordered interlib. loan (see bib. in our books or on xx1-xxiv in electronic reserve from book Grasping the World: The Idea of Museums), public policy paper on current controversy (some topics in reserve books Museum Politics: Power Players at the Exhibition or Colonialism and the Object: Empire, materal culture and the museum, or another paper format as approved Feb. 6.
7) March 6 Mid-Term week
Mon. March 6 TRIP to GETTY —ask permission to be excused from any 1-2:30 commitment. (2 vans enter 2:30, leave Oxy at 1, drivers: student and librarian Marsha Kay Schnirring), 1 van enters 3:00 (leave Oxy 1:30, Driver Undine Darney))
Van Zuylen, chs. 5 and 6 (pp. 65-80, 81-94, 144-149)
Hooper-Greenhill pp. 167-190.
Mack, ch. 5 (pp. 80-105)
Location
The Getty Villa is located at 17985 Pacific Coast Highway in Pacific Palisades, California, one mile north of Sunset Boulevard. It is approximately 25 miles west of downtown Los Angeles.

Map the Getty Villa on Mapquest.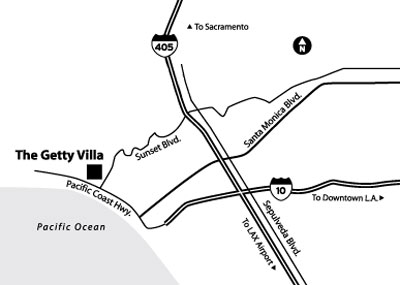 March 13 Spring Break

Transforming LACMA*
March 13, 2005 -- TBD

The installation is comprised of the Renzo Piano Building Workshop drawings, studies, and models that chronicle the development of a master plan and early building designs for LACMA.



8) March 20

In-Class Examination (2 hours) on readings and class presentations through March 6, and class field trips.

Some study guidelines:

Review Questions for Exam (Revision with student input from review session March 8)

Study Guide for Getty Villa in Malibu.

Horowitz, article on Piero's Study in Viator (to be scanned on class electronic reserves) Class lecture was based on article.

Birth of Public Musuems in early modern times.

Mack, pp. 10-23

Duncan, ch. 2 pp. 21-47

9) March 27 Advising week

Public museums and public parks under democratic governments

Duncan, ch. 3 (pp. 48-71)

Van Zuylen, 95-128, 149-160.

Discussion of Duncan, chs. 2 and 3.

Lecture begins : Visual Order to Collections (on electronic reserves, Horowitz, "Visual Order to Collections," New Dictionary of the History of Ideas, ed. Horowitz, vol. 6, 2429-2441. Volumes in reference section.)\

http://0-departments.oxy.edu.oasys.lib.oxy.edu/library-reserve/hist224/04.pdf

Hunting, Horticulture, Cabinets of Curiosity, Author Portraits, Imperial Busts, Disciplines of Knowledge, Succession of Collections, The Circle of Knowledge, Secular Temples, Towers of Knowledge

Author portraits in Raphael, School of Athens: http://www.benturner.com/theirs/athens.jpg

4:30 Film based on novel by Henry James: The Golden Bowl

10) April 3

Pass in proposal for April 17 paper (topic and specific location of museum rooms).

Lecture continues : Visual Order to Collections (on electronic reserves, Horowitz, "Visual Order to Collections," New Dictionary of the History of Ideas, ed. Horowitz, vol. 6, 2429-2441. Volumes in reference section.)\

Museums of Modernity

Duncan, ch. 5 on Modern Art Museum, and Conclusion (pp. 102-134)

Hooper-Greenhill, ch. 8 (pp. 191-215)

4:20: Completion of Film The Golden Bowl. Relate to development of American metropolitan public museums.

11) April 10

Mack, ch. 5 (pp. 80-105) Discuss especially figures 59 for Day of the Dead, fig. 65 on Indira Ghandi, fig. 68 Mummy, fig. 69 Roman Mummy portrait, fig. 71 Roman marble head likely from death mask, p. 98 Ga carvers from Ghana biographical coffins, fig. 75 sarcophagus with Hercules images, fig. 76 memorial posts from Burma, fig. 77 painted wood object from New Ireland. Relate all Roman objects to items seen at Getty Villa.

Kvanagh, chs. 1-5 Student analyses of these chapters.

Student statements of paper plans.

12) April 17 Paper 2 Due (2 copies necessary; bring 2nd copy of lst paper if you have not done that yet.) 3-5 pages, plus endnotes and bibliography. Select a set of interrelated rooms in a museum in Los Angeles today. Critically analyze the exhibition and its cultural communication by considering the choice and arrangement of objects, the exhibition techniques, and the words on labels and/or museum brochure. Relate that exhibition to your readings on the same topic and/or to another museum's related exhibition. See list of museums at end of syllabus.

Workshop on papers.

Mack, ch. 7 (pp. 106-118)

Kavanagh, chs. 6-10 Student analyses of chapters.

Takehome questions passed out.

13) April 24

April 25--be sure that you have brought museum receipts to CBL for reimbursement; students who have receipts beyond the basic allotment may submit those additional receipts now.

Kavanagh, chs. 11-16

Typed Takehome examination Due Friday April 28 12:30 p.m. (office hour)

14) May 1 and Thurs. May 4

Kavanagh, chs. 17-21. Student Analyses of chapter.

May 1 class meets 2:30-5:30 in Braun Room, Occidental College Library

May 1. Student Evaluations.

May 4 2:30-5:30 p.m. Official last class day. Class trip to The Huntington Library, Art Collections, and Botanical Gardens. Bus leaves from fountain 2:30 and leaves Huntington Library by 5 p.m.

Mon. May 8 Last day to email an extra credit report on museum visit.

………………................

Main Local Museums: (Another list from Museums L.A. on electronic reserve, library)

Pasadena:

Huntington Library Art Collections & Botanicl Gdns - 2.4 miles SE - 1151 Oxford Rd, San Marino, 91108 - (626) 405-2100


Norton Simon Museum of Art at Pasadena - 0.9 miles W - 411 W Colorado Blvd, Pasadena, 91105 - (626) 449-6840


Pacific Asia Museum - 0.2 miles SE - 46 N Los Robles Ave, Pasadena, 91101 - (626) 449-2742

Culver City:
Museum of Jurassic Technology in spirit of curiousity cabinets

Los Angeles:

American Film Institute


http://www.afionline.org/

ArtScene


http://artscenecal.com/

Autry Museum of Western Heritage


http://www.autry-museum.org/

California African-American Museum


http://www.caam.ca.gov

The Carole & Barry Kaye Museum Of Miniatures


http://www.museumofminiatures.com/

Fowler Museum of Cultural History


http://www.fmch.ucla.edu/

The Getty Villa is located at 17985 Pacific Coast Highway in Pacific Palisades, California, one mile north of Sunset Boulevard.

Getty Center, 1200 Getty Center Drive, off San Diego Fwy.

http://www.getty.edu/

Huntington Library, Art collection,
and Botanical Gardens


http://www.huntington.org/

Japanese American National Museum


http://www.lausd.k12.ca.us/janm/

LACMA Los Angeles County Museum of Art

http://www.lacma.org/

Los Angeles Murals


http://latino.sscnet.ucla.edu/murals/index.html

Mural Conservancy of Los Angeles


http://www.lamurals.org/

Museum of Contemporary Art


http://www.moca.org/

Museum of Latin American Art


http://www.molaa.com/index.htm

Museum of Neon Art


http://www.neonmona.org/

Museum of Tolerance


http://www.wiesenthal.com/mot/

Norton Simon Museum


http://www.nortonsimon.org/

Public Art in Los Angeles/
Cultural Los Angeles


http://www.usc.edu/isd/archives/la/pubart/

Skirball Cultural Center


http://www.skirball.com

Southwest Museum


http://www.southwestmuseum.org/

UCLA Armand Hammer Museum


http://www.hammer.ucla.edu

Natural History Museum of Los Angeles County, 900 Exposition Boulevard, Los Angeles, CA 90007 (213) 763-DINO
Natural History Family of Museums I Page Museum at the La Brea Tar Pits
---
---
---